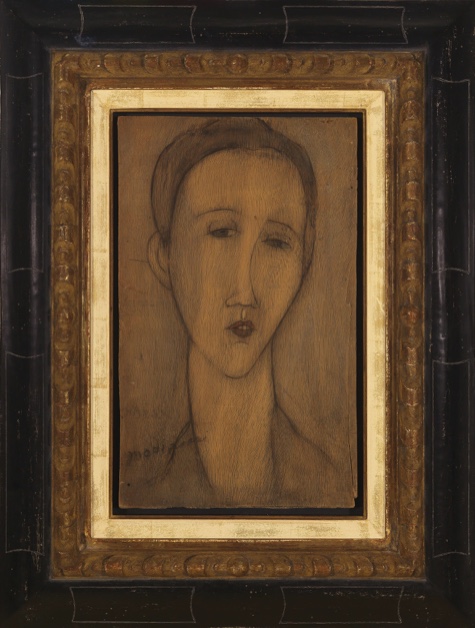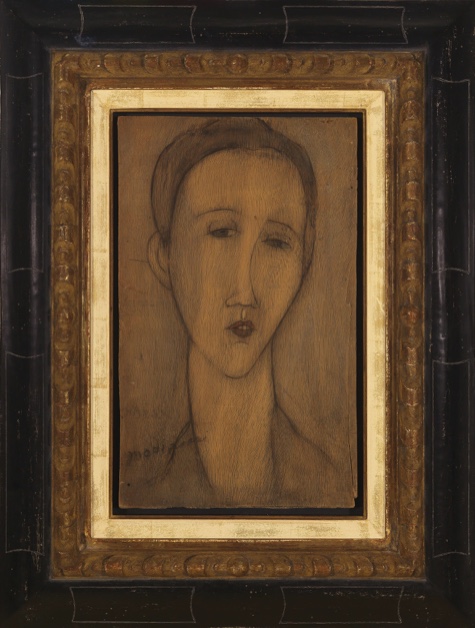 Estimate
TWD 18,000,000-26,000,000
HKD 4,557,000-6,582,000
USD 582,000-840,600
CNY 4,167,000-6,019,000
---
Signature
Signed lower left Modigliani
This lot is to be sold with a certificate of authenticity signed by Arthur S. Pfannstiel, the expert in Modigliani's art in 1966.
PROVENANCE:
Madame L. Charpentier, Paris (acquired directly from the artist), 1919-1937
Madame Ribas, Barcelona Emilio Ribas, 1937-app. 1966
Welters van Hattum, Dutch collection, Vice Consul of the Netherlands from app.1968
Private collection, Europe (from the late 1970s till now)

EXHIBITED:
Works by Amedeo Modigliani in Dutch Possession, Centraal Museum Utrecht, Netherlands, March 15 - May 5, 1968

ILLUSTRATED:
Works by Amedeo Modigliani in Dutch Possession, Centraal Museum Utrecht, Netherlands, 1968, black-and-white illustrated, no.10, pp. 24-25
+ OVERVIEW
Amedeo Modigliani (1884-1920) was born into a Jewish family in Livorno, Italy. Having been in frail health since childhood, he suffered from several illnesses and ultimately died of tuberculosis at the mere age of 36. In 1905, the artist had enrolled at the Accademia di Belle Arti di Venezia followed by Accademia di Belle Arti di Firenze. Since 1909, Modigliani moved to Montparnasse where he met artists like Picasso, Brâncuşi, Soutine, Kisling, and Léonard Tsuguharu Foujita. In 1916, he joined the School of Paris, which was characterized by an avant-garde lifestyle at that time. During the same period, Modigliani also profoundly influenced early Chinese artists in France, since the figure paintings by Sanyu, Pan Yuliang, and Lin Fengmian are clearly inspired by Modigliani. Today, Modigliani's legacy still remains in many of the portraits created by contemporary artists. Various kinds of traditional artistic styles have been learned and inherited from Modigliani's works. These styles have been applied to many portraits, with particularly outstanding effects on transformative art.

Among Modigliani's lifetime of creations, he based his figure paintings on people he saw in daily life, including professional models, friends, and his lover Jeanne Hébuterne's portraits or nude paintings. In terms of styles, he combined western traditions with numerous regional cultures under the inspiration of many classical master artists. Particularly, he had an admiration for Italian classical traditions. After arriving in Paris, Modigliani gradually formed an artistic style with elongated figures and mask-like faces. It was 1910 when he created nearly 30 stone head sculptures under the influence of Constantin Brancusi. By shifting the focus from sculpture to painting, Modigliani skipped muscle depictions in search for a simplified quality to express intrinsic images. Regardless of whether the characters are male or female, Modigliani's depictions of them always demonstrated a feminine delicate quality. Later on, he created many portraits of Jeanne in his unique elongated style that resembled Renaissance Madonnas. Nevertheless, he was also simultaneously influenced by other styles such as Cubism and ancient Egyptian art.

The character in this Portrait of Lunia Czekowska is one of Jeanne's good friends. Ms. Lunia Czekowska is also the person who helped Modigliani to own the studio on rue de la Grande Chaumière. In
addition to sponsoring artists, she also took care of Jeanne as a close friend, and Modigliani had painted multiple portraits of her. Modigliani was in love when he created this piece of artwork for his friend. During this period, he also created many female images that were unwilling to face the reality. These portraits are characterized by: tilted head, elongated neck, walnut-shaped eyes, and blank eyes. Filled in with pure colors, these images look like autumn lake water in the mountains, waiting thoughtfully with infinite sadness on their faces.

Mlle. Charpentier lived at 4bis rue de la Grande Chaumière, Paris, and as a friend of Modigliani's, visited him often and gave him financial support. The majority of this collection was sketches, many of which were drafts dispersed through books; but there were also specially colored sketches that were nearly-complete works. Those were colored with oil paint or pastels diluted with turpentine oil, and the outlines were drawn in Chinese ink or cuttlefish ink. From March 15 to May 5, 1968, Portrait of Lunia Czekowska, was exhibited in the Werken Van Amedeo Modigliani in Nederlands Bezit (English: Works by Amedeo Modigliani in Dutch Estate) in the Centraal Museum Utretch. The work was numbered 10 and its description was printed on pages 24 and 25 of the catalogue. The foreword of the exhibition
catalogue was written by Pfannstiel. He detailed the sources of the exhibited works.

The Portrait of Lunia Czekowska displays Modigliani's style of elegance and idleness. The rhythmic lines dominate the image, blending the female character with the soft background color. The
character's face almost sits in the center, with deep and graceful eyes that are greatly impressive to viewers. These features are also demonstrated in Modigliani's other artworks. The long female
necks, tilted shoulders, and implicit facial expressions are especially apparent, as they attract viewers' eyes to the portrait from being affected by other external images. The artwork demonstrates
Modigliani's elegant aesthetics during his period of maturity, and this type of aesthetics had been strongly influenced by Botticelli. This kind of processing method aimed to sensibly highlight the
character's outlines while keeping the background in primary colors.

In Modigliani's short lifetime, the works from the later phases of his art career tend to express his persistent emotions. As a result of
Jeanne's unconditional love, the artist's muses, Jeanne Hébuterne and Lunia Czekowska, had both been important models during the artist's career. Modigliani was always immersed in his own world
of painting and seemed to ignore the external world. The female image in this piece of work is one of the more mature and sensible masterpieces that Modigliani created during this period of time.
Select: Modern & Contemporary Art
Ravenel Autumn Auction 2019
Sunday, December 1, 2019, 12:00am