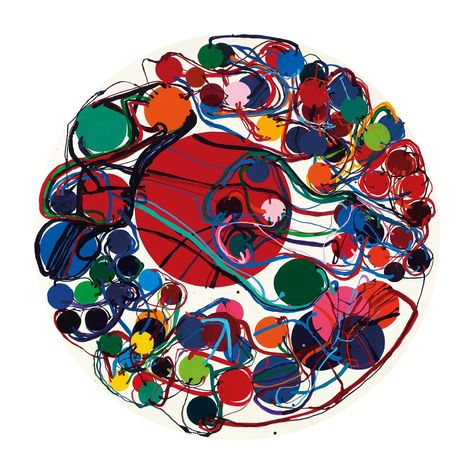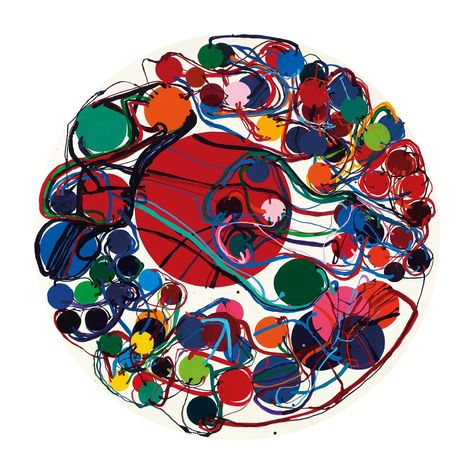 Estimate
TWD 9,500,000-14,000,000
HKD 2,589,000-3,815,000
USD 333,000-490,700
CNY 2,194,000-3,233,000
---
Signature
Signed reverse Atsuko Tanaka, titled '91f and inscribed Ø 90 cm

PROVENANCE:
Galleria Col, Osaka
Acquired from the above by the present owner
+ OVERVIEW
Atsuko Tanaka was an avant-garde artist representative of Japan's post-war "Gutai group." Born in Osaka, Japan in 1932, Tanaka experienced Japanese militarism during her adolescent years. Following Japan's decline after World War II, during the US Army occupation, the Japanese society benefited from the economic stimulus sparked by the military industry of the Korean War. In 1956 when Tsutenkaku was rebuilt and once again stood on the skyline, in much the same way as Osaka City, Tanaka's avant-garde art was reborn from a scorched earth, sparking glamorous fireworks on Hanshin Harbor's night sky.

After the war, Japan repaired its international relations through cultural exchange, which indirectly catalyzed the rise of new artistic activities in the country. In 1954, Gutai founder Jiro Yoshihara called for aspiring young people to join the Gutai Art Association. With the motto of "never imitate others," Gutai successfully drove Japanese contemporary art to the center of the international stage. Yoshihara's forward-looking ideas transcended beyond nationalism while successfully tearing down cultural barriers. By bringing together artists, such as Atsuko Tanaka, Kazuo Shiraga, and Shozo Shimamoto, Gutai attracted the attention of the western art world. In 1957, the Bridgestone Museum of Art and Yomiuri Shimbun jointly held the Contemporary World Art Exhibition, attracting French Art Informel artists, including Michel Tapié, Jean Fautrier, and Georges Mathieu, to visit Japan. In the following year, Tapie visited Japan again to invite Gutai artists to exchange ideas with Art Informal artists. Through the joint organization of the "International Art of a New Era: Informel and Gutai," the "Gutai" concept was introduced to Europe at the time.

Unlike other artists of her time, such as Yayoi Kusama and Yoko Ono, Tanaka did not fly to the United States to pursue a more open social atmosphere, and have a bold lifestyle or a chance to be famous. In contrast, she stayed in Japan and joined the Gutai group to create new innovations with various art pioneers who shared the same ambitions. She persisted in her unique artistic expressions, and contemplated what form of art could connect individuals to the outside world in the new post-war society. Between 1953 and 1958, Atsuko Tanaka created works that simultaneously spanned across performance art, minimalism, conceptualism, and more. The level of development in such a vigorous and advanced creative performance was nearly a decade ahead of European and US art circles at that time. On top of using new media to create experimental, performative works in the 1950s, Atsuko Tanaka's graphic works began to feature abstract images inspired by neon lights, polka dots, and circuit diagrams in 1956. At the second Gutai Art Exhibition in the same year, the artist debuted Electric Dress (1956) to the world by wearing a dress made of more than two hundreds of light bulbs and light tubes. As a crossover between materialism and imagery, the daring and wild breakthrough in this work marked the milestone of Atsuko Tanaka's achievement in contemporary art history.

"When it was finished, I was uncomfortable about the electrical connections. Since somebody had to wear it, I covered myself with vinyl and put the electric dress on. The moment Mr. Sannomiya said, "I am turning the electricity on," I had the fleeting thought: Is this how a death-row inmate would feel?" For the purpose of creating unprecedented art, Atsuko Tanaka fit her body into the dress without any hesitation.

The Taipei Fine Arts Museum held the "Herstory of Abstraction in East Asia" exhibition in 2019. As the soul of Japan's post-war avant-garde art, Tanaka had a neck-andneck art achievement as Yayoi Kusama. Tanaka participated in the Gutai group's activities until 1965. Breaking away from group activities did not influence her implementation of her art philosophy. For the 1968 performance art Round on Sand, Tanaka drew continuous circles and geometric patterns on tidal sand by a tree branch with her body as the center. She physically "devoted" her body to the creative process in perception of individual, subtle changes in the surrounding environment as time elapsed unidirectionally, as if human body movement was the only conductor that connected inorganic media. The 2007 Kassel Documenta 12 and 2011 MoMA exhibition in New York featured many of Atsuko Tanaka's works and brought her art back to the general audience, demonstrating her unique and unparalleled representation. In 2012, the Museum of Contemporary Art Tokyo held Atsuko Tanaka's solo exhibition: The Art of Connecting. It was the most significant retrospective exhibition since the exhibition by the same name toured to the IKON Gallery in the UK and EACC Art Center in Spain. The exhibition featured a collection of over 100 pieces of works including sketches, sculptures, clothes, techniques, and collages made by different materials. As Atsuko Tanaka admitted, creation can transcend the limits of given impressions and materials, extending to time, space, and sound. All kinds of creations can be perceived as an expression of "painting."

"There's been so much progress in medicine and science, with people even talking about flying to Mars, and I just want to create art that can coexist with these times." Atsuko Tanaka expressed.

Select: Modern & Contemporary Art
Ravenel Spring Auction 2021 Taipei
Saturday, July 17, 2021, 12:00am