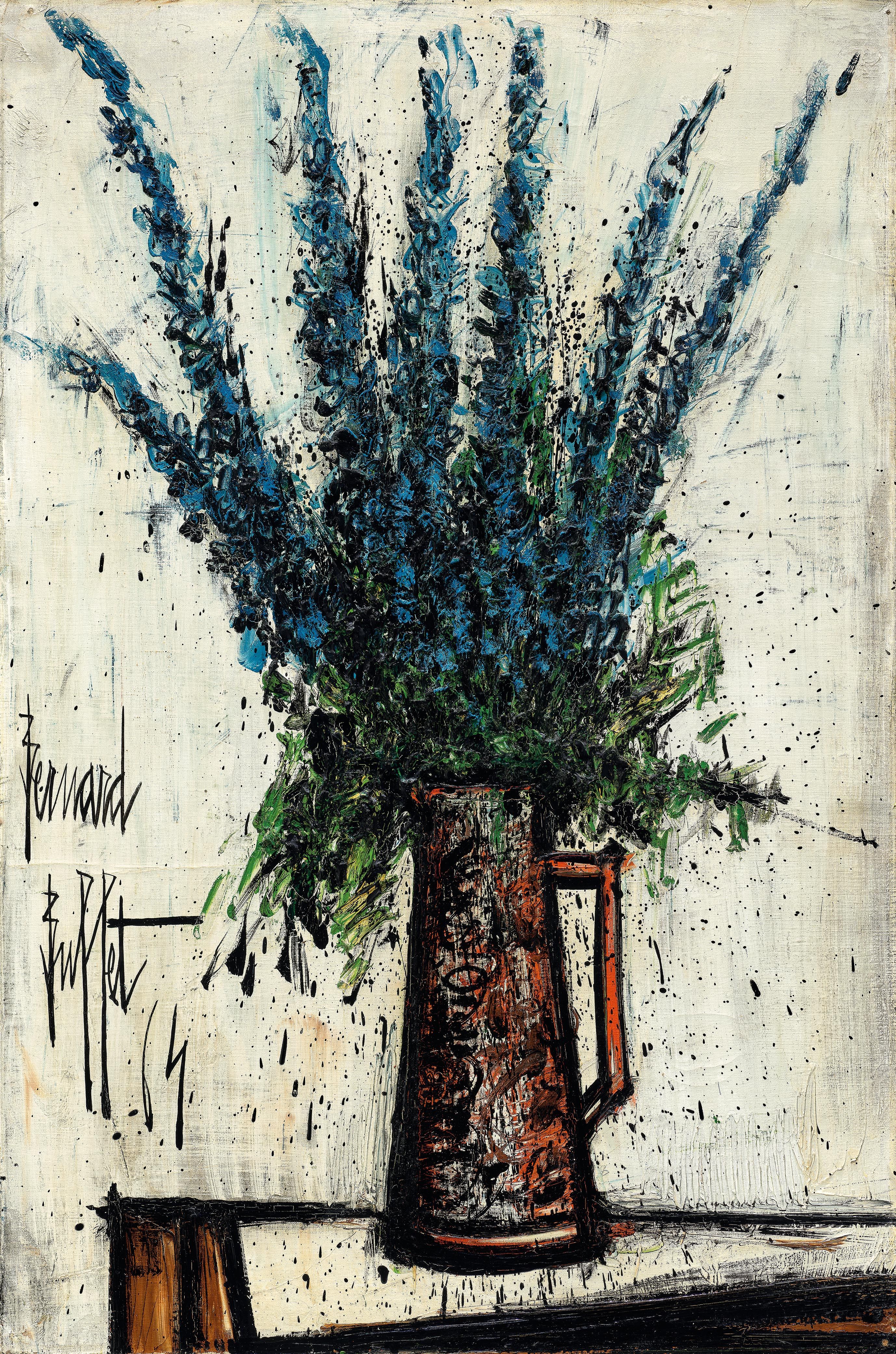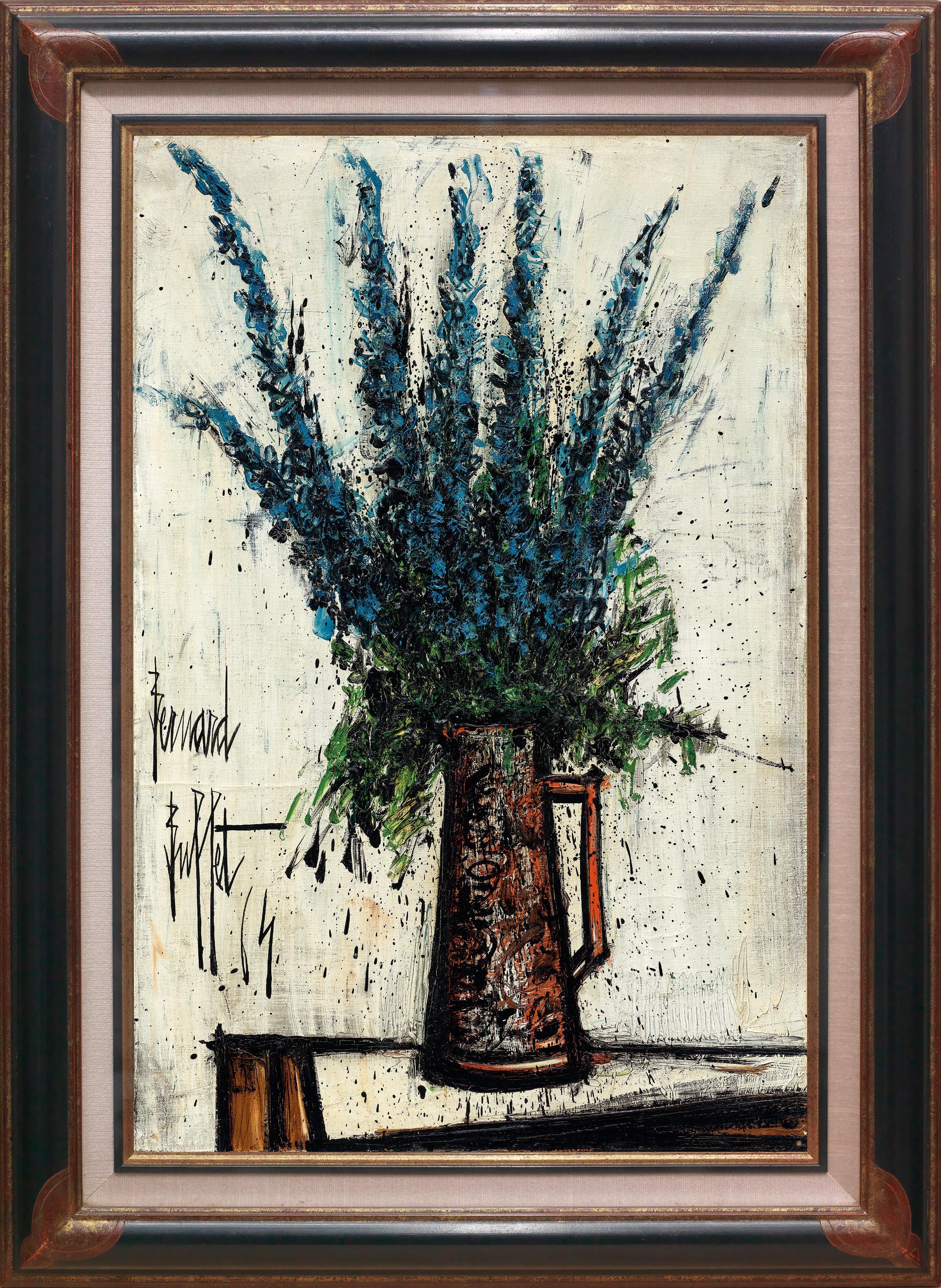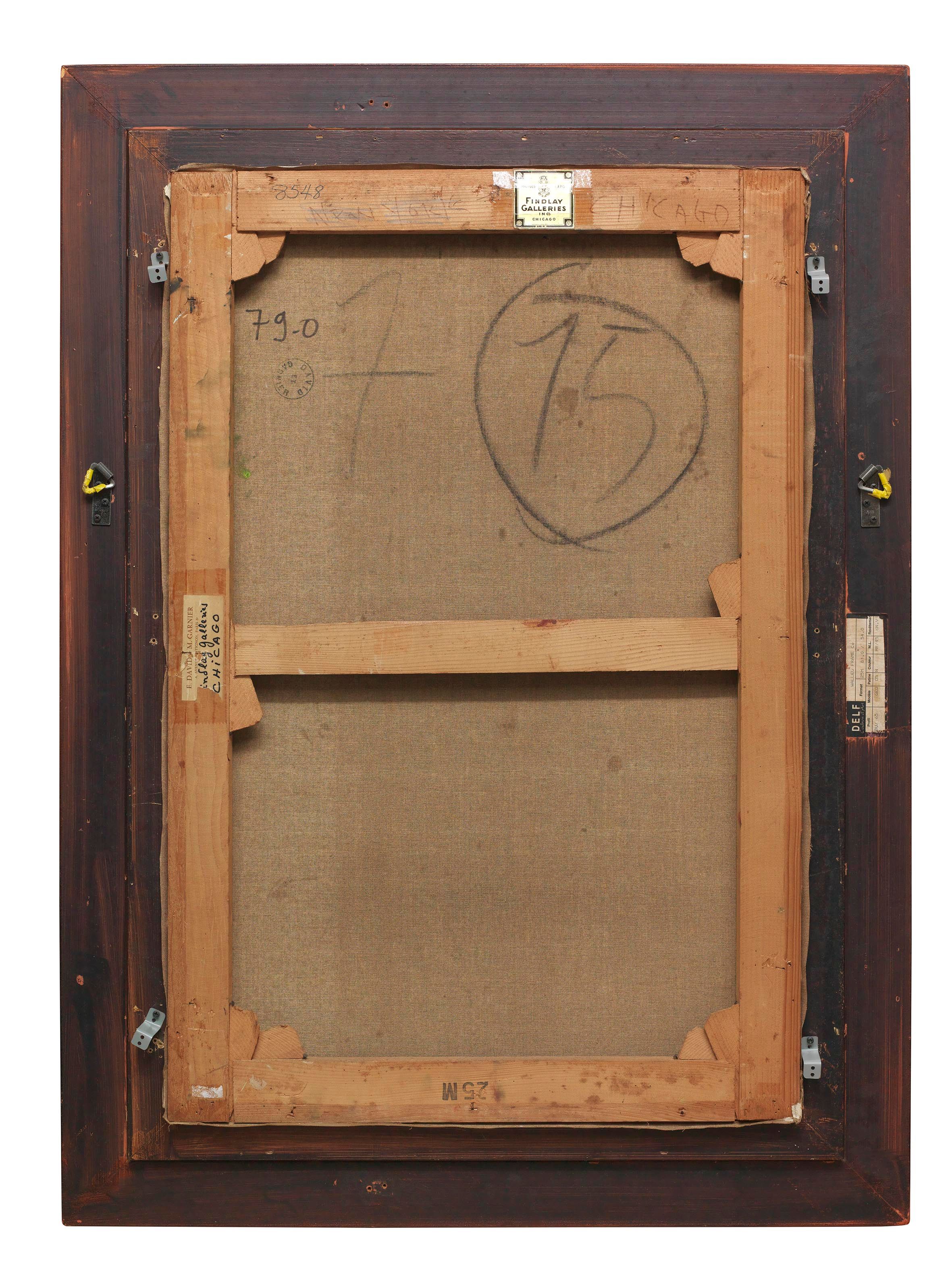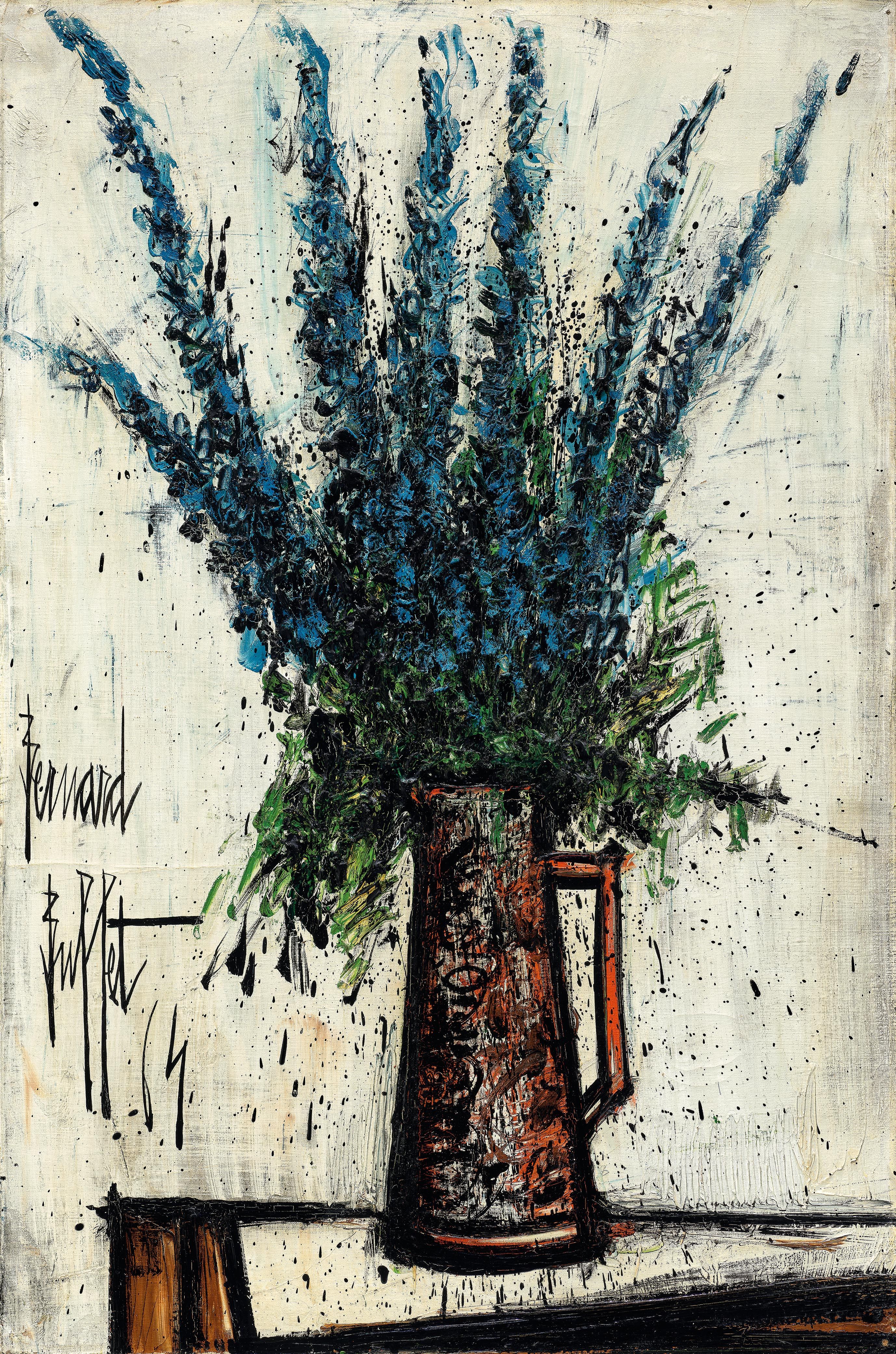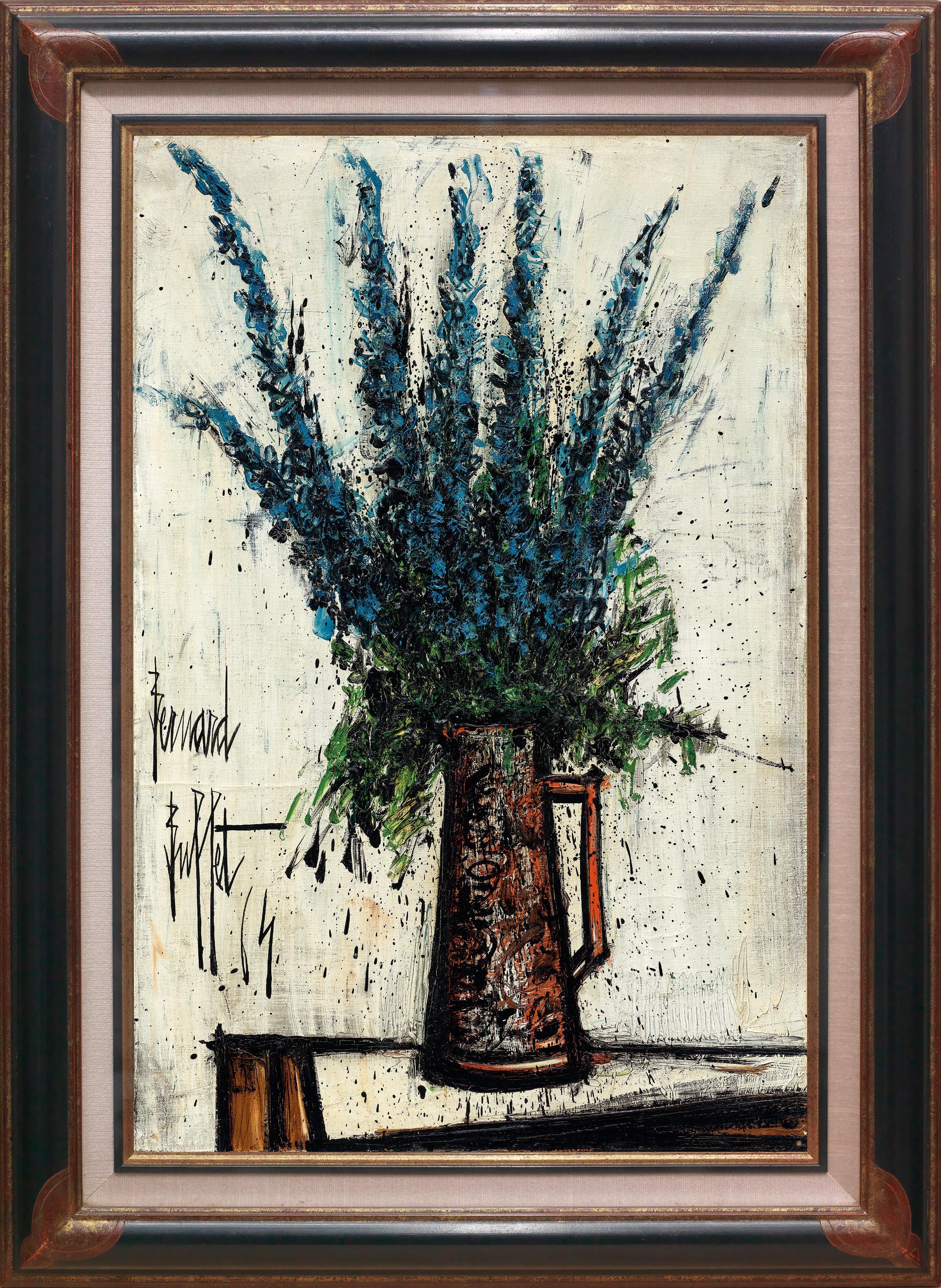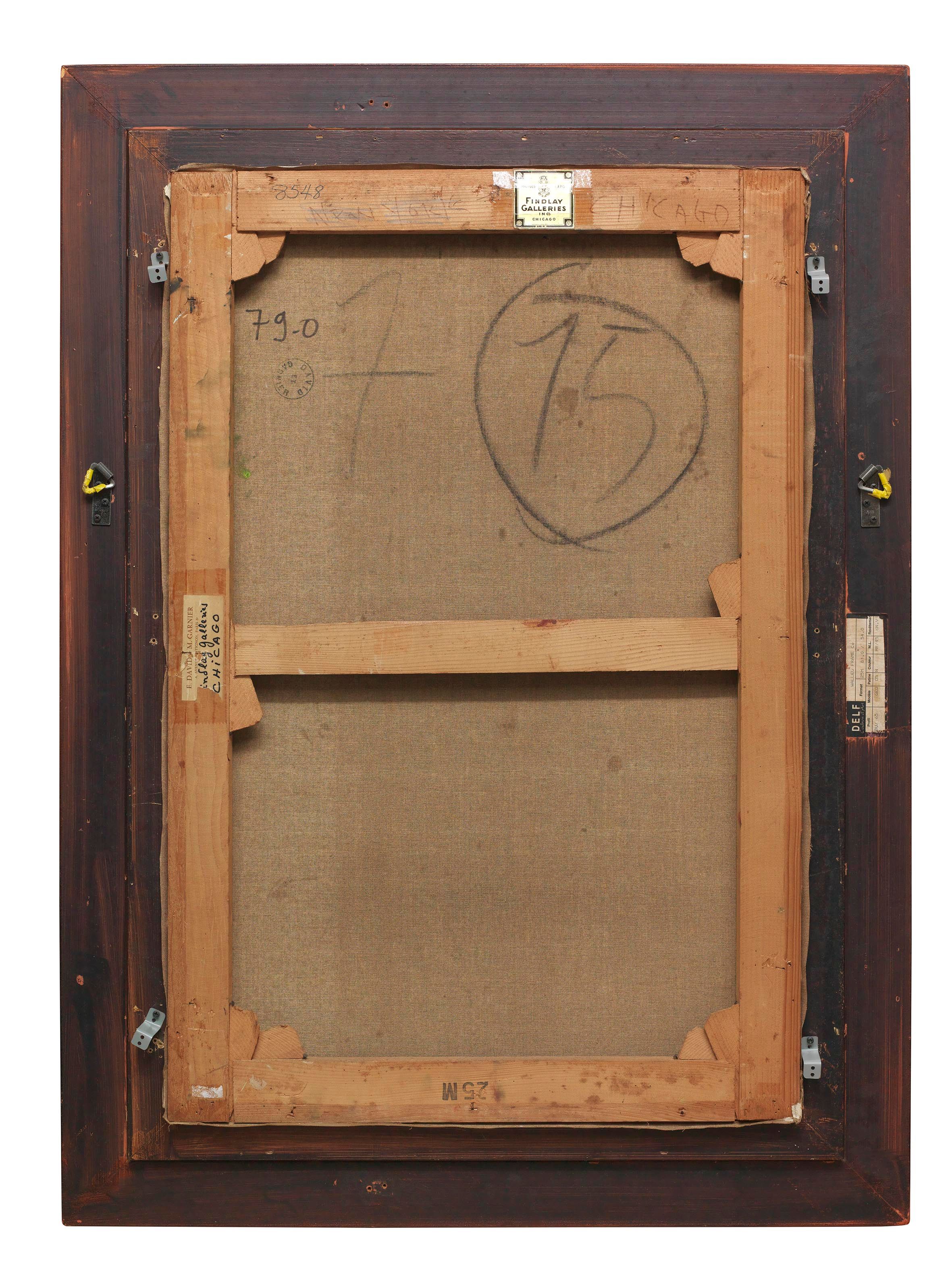 Estimate
TWD 4,400,000-6,500,000
HKD 1,229,000-1,816,000
USD 158,000-233,400
CNY 1,026,000-1,515,000
Sold Price
TWD 4,800,000
HKD 1,348,315
USD 173,160
CNY 1,103,448
---
Signature
Signed lower left Bernard Buffet and dated 64

PROVENANCE:
Galerie David et Garnier, Paris
Findlay Galleries, Chicago
Leslie Hindman Inc., Chicago, May 2, 2012, lot 263
Galerie Elegance, Taipei
Acquired from the above by the present owner
This lot is accompanied with a certificate of authenticity issued by Galerie Garnier.
+ OVERVIEW
Inherited from the gifts of nature, much of humanity's concepts on beauty are extensions of the realistic images of flowers. In the history of Western art, flowers are long-standing themes, inspiring artists to sing praises to nature with art. Through the process of cultural performance and exhibition, they become more colorful and dazzling, and this human infatuation endows flowers with even more meaning and imaginations. From the symbolic significance of the Renaissance to the comfortable daily life imagery of Impressionism, flowers are an important motif with which famous painters define their own style. This challenge posed no difficulties for Buffet, who had loved every stick and stone of nature since childhood. A shy and lonely boy, Buffet relied on animals and plants as his best friends and artistic models.

Born in Paris in 1928, after decades of upheaval and war, Buffet's life was like a new wave film, full of drama. Among his more than 8000 works, there are many still life paintings. The "Flowers" series is the most lyrical, as well as the most intimate. From his rise to fame in the early 1950s to the dramatic end of his life in 1999, Buffet painted countless flower still life works. From the simple monochromes of his early years to the sharp lines of his later years, the flower theme is like Buffet's artistic biography, recording the evolution and transformation of his painting style. Through paintings from different periods, later generations can feel the late French master's most sincere and moving post-war Expressionism aesthetics. In this autumn auction collection, Buffet's 1964 Delphiniums Bleus is recommended as an exemplary ork filled with a southern French ambiance and the artist's iconic style. A symbol of joy and encouragement, the blue delphinium is often associated with blessings. Its long spike seems to sway gently in full exuberant bloom, the clusters of blossoms like a flock of flying swallows. The painting's elegant shape and beautiful implication attracted artists such as Van Gogh, Henri Fantin-Latour, Lin Fengmian, Le Pho and others to extend their inspiration. From 1957 to 1964, Buffet lived in Le Château l'Arc in Provence. The most common flowers he painted in this period—daisies, iris, delphinium, tulip and dahlias—were atched with various exquisite crystal glass and antique porcelain bottles, a mark of the affluence Buffet and his wife were enjoying by this time.

The lot Delphiniums Bleus retains Buffet's unique characteristic spatial layout, with simple L-shaped lines paired with lattice or a corner of white cloth to indicate the desktop. The bouquet occupies the center of the painting with the background and light source simplified and blunted to emphasize a single focus; the blossoms almost overflow from the painting's edge. The work's form is vigorous and unrestrained, from the orange vase to the carefully articulated lines of the flowers and the dotted strokes of the ink-blue petals. Each exciting detail renders a cheerful atmosphere which enthrals the viewer. At the same time, it also reflects Buffet's maturity and confidence at this time. Other Buffet flower paintings of the same period were auctioned in New York in 2014 for NT $18 million-a record price for the artist's flower series which remains unbroken.

In an era when abstract art dominated the art world, Buffet insisted on realism and was an active member of the anti-abstract group "L'homme Témoin". A Buffet retrospective exhibition in 1958 attracted nearly 100,000 people, a testament to how Buffet's art career won high praise from its early years. Buffet was awarded the Legion of Honor in 1973 and became an academician of the French Academy of Fine Arts in 1974. His works have been collected by the world's top museums, including the Tate Modern Art Museum in London, the Museum of Modern Art in New York, the City of Paris Museum of Modern Art, and he Bernard Buffet museum in Japan.
Select: Modern & Contemporary Art
Ravenel Autumn Auction 2021 Taipei
Saturday, December 4, 2021, 3:30pm